I just ordered one of those cheap 4USD STM32F103 board from ebay and a JTAG probe.
It's labeled STM32FxCxT6 Board V5.02 150118
As always, the price is as light as the documentation, but eventually digging the WWW you find interesting things.
Most electronic products available on Ebay, Aliexpress, DX, Banggood, ... are also available from Taobao and after 15mins search I found an ad selling the same looking board with a link to sample codes.
To me, the most interesting file in the archive is  circuit diagram of the board.
The onboard LED is connected to the pin PC13.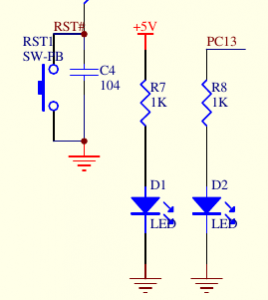 Since I just want to blink an LED, I'll go for the fastest way and use the mbed online IDE.
Add the platform NUCLEO-F103RB to your IDE.
the C8 and RB differ as follow:
R = 64 pins| C = 48 pins
B = 128KB Flash| 8 = 64 KB Flash
The memory addresses are the same.
Create a new project and use the following code

#include "mbed.h"

DigitalOut led(PC_13);

int main() {
    while(1) {
        led = 1;
        wait(0.5); // 500 ms
        led = 0;
        wait(0.5);
    }
}

Press compile and download the .bin file.
Assuming you know how to install openocd on your box, I like to use the following script to flash the target with the J-LINK JTAG probe.


#!/bin/sh

binpath="$1"
cfgfile="/tmp/flash_cmds.cfg"

cat > "$cfgfile" <<EOF
init
reset init
halt
flash write_image erase $binpath 0x08000000
reset run
shutdown
EOF

openocd -f /usr/share/openocd/scripts/interface/jlink.cfg -f /usr/share/openocd/scripts/target/stm32f1x.cfg -f "$cfgfile"

./flash.sh <the file from step3>
Congrats, your on board LED should now be flashing 🙂